9 Best Linux Courses to Learn Online in 2022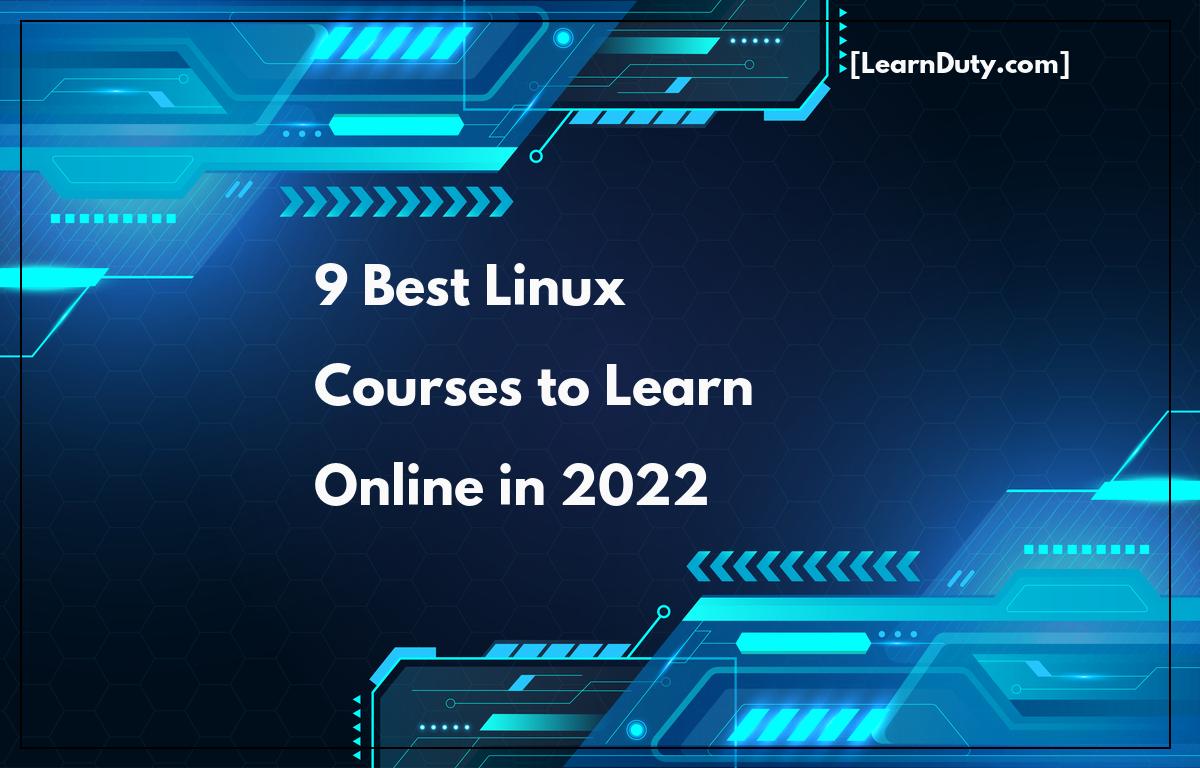 Are you interested in learning Linux? Well, this is the right place for you, where you will find the best high-quality training and courses for Linux.
Our experts have reviewed a lot of courses and classes in order to pick this list of the Best Linux Online Training, Courses for 2022. These resources are great to enhance your Linux knowledge and skills and potentially earn a certification to boost your resume.
How We Pick the Best Linux Online Courses.
We explored the top tier Online training and courses platforms like Udemy, Coursera, LinkedIn Learning, Pluralsight, Udacity, and more to find out which:
* Courses are the most comprehensive.
* Courses and classes that are getting the most positive reviews and ratings.
* Courses that have the largest number of students.
We Also checked the course instructor's experiences and reviews, course duration, and other criteria. Then, after careful examination, we came up with this top list of Linux courses online.
The following best online courses and trainings will help you to learn Linux from the best instructors in the field, this can be clearly seen from the student's reviews.
The list contains both free and paid best Linux courses. some of them will provide you a completion certificate, which can be published on your LinkedIn profile and on your resume.
1- Learn Linux in 5 Days and Level Up Your Career
Description: "You can use the in-demand Linux skills you learn in this course to get promoted or start a new career as a Linux professional. There are 20,000 successful students who have already taken this course. If you want to learn how to use Linux and level up your career but don't have time, read on. I am the author of Linux for Beginners and the founder of the Linux Training Academy. When I ask people what their biggest challenge is to learn Linux, they all say the same thing: time. That's the reason I created this course. Give me 45 minutes a day for the next 5 days and I will teach you everything you need to know about the Linux operating system. I'll guide you step-by-step through several practical and real-world examples, and you'll learn the most important concepts and commands."
2- Linux Command Line Basics
Description: "The Linux Command Line is the subject of this course. It's great for both beginners and advanced Linux users. You can join the most popular Linux course on Udemy and get two of my best-selling books for free. To become a Red Hat Certified Engineer, mastering all Ansible Automation skills are required. One of the top-paying certifications in the IT industry is the Red Hat Certified Engineer. There are animated videos to help you understand Linux concepts in a very simple way."
3- Linux Administration Bootcamp: Go from Beginner to Advanced
Description: "Use the in-demand skills to start a career as a Linux server admin or Linux administrator. There are 20,000 successful students who have already mastered the Lincoln potties with one of my top-rated courses. If you want to improve your career, read on. Hello. I am the author of Linux for Beginners, the founder of the Linux Training Academy, and an instructor to thousands of satisfied students. I'll be sharing my real-world Linux experience with you during this course, because I started my IT career in the late 1990's as a Unix and Linux Systems Engineer."
4- Linux Mastery: Master the Linux Command Line in 11.5 Hours
Description: "You can learn the Linux Command Line from scratch and improve your career with the world's most fun project-based Linux course. . The results of the tests. The course on Linux on Udemy is the best so far."
5- Complete Linux Training Course to Get Your Dream IT Job 2022
Description: The Best Linux Administration course prepares you for corporate jobs. There are testimonials from my students. Thank you for taking the course. After completing this course, I got a job offer. Thanks again. Thank you, Kshitji Deshmukh.
6- Open Source Software Development, Linux and Git Specialization
Description: The Open Source Software Development, Linux and Git Specialization will give you a strong foundation for working comfortably and productively in open source development communities. By completing the Specialization, you will have a better understanding of the Linux environment, as well as the methods and tools required to successfully use it, and you will know how to use Git, the distributed version control system.
7- Introduction to Linux
Description: Getting started with Linux can seem overwhelming with so many technical terms and cultural quirks. Scott Simpson teaches the basics of learning Linux in this course. Scott talks about the software that allows you to interact with a computer. He explains desktop environments, text-based terminal interfaces, and standard tools that are used on a Linux system. Scott shows us where different types of files are stored. He helps you plan your Linux system with tips on choosing which distribution to use. Scott gives tips on how to find answers and asks for help when learning Linux, after showing you how to direct your strategy.
8- Learning Linux for LFCA Certification Specialization
Description: It is intended for beginners to learn how to program. It will teach you how to use the Linux operating system. You will learn how to create security through backups and redundant backups, secure the perimeter of your network and systems and manage a system with the Linux OS installed.
9- Managing Software in Linux with Debian Software Management

Description: Software management is covered in many courses and books, but not in-depth. In the course Managing Software in Linux with Debian Software Management, you will learn how to use Debian packaging tools. The basics of the command dpkg will be taught first. You will learn how to use apt to locate and manage software. You will learn how to make your own package. You will have the skills and knowledge to manage your enterprise Linux systems once you finish this course.