Acknowledging, Ignoring and Hiding Faults in Cisco ACI
Acknowledging a Fault
In Retaining state: Acknowledging a fault that is in the 'retaining' lifecycle state deletes the fault immediately instead of waiting for the retention interval to expire (the retention interval is one hour by default).
You can acknowledge a fault that is in another lifecycle state in order to mark the fault as an expected fault or as a fault to be ignored.

You can Acknowledge from many tabs where the fault is seen, for example: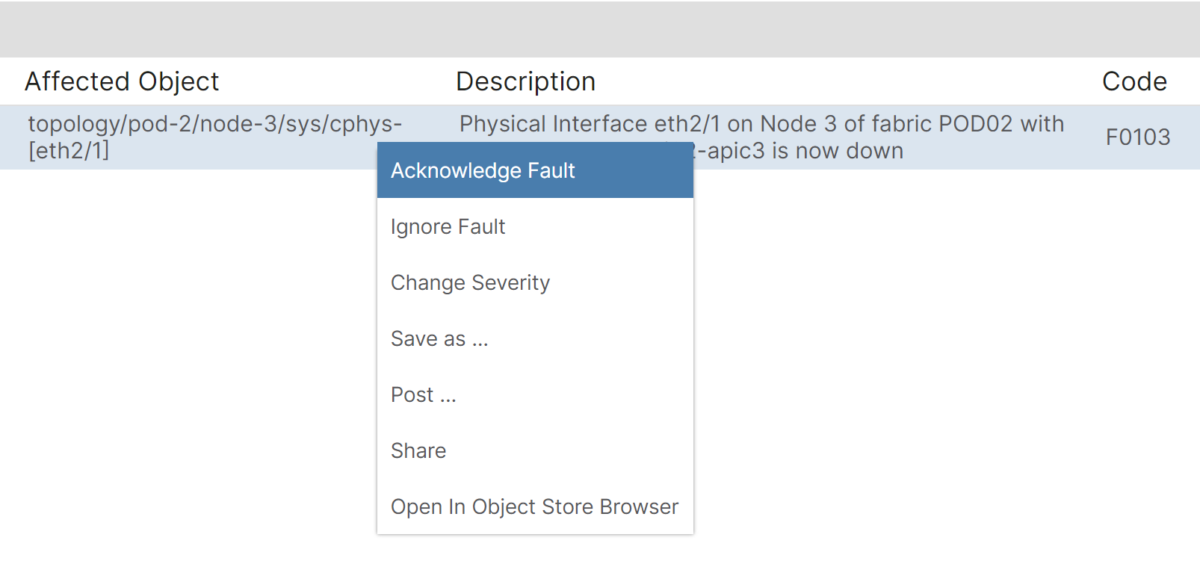 Once Acknowledge, the fault instance Ack property will be equal to "yes":
# fault.Inst
code             : F0103
ack              : yes
alert            : no
annotation       : 
cause            : port-down

Since the fault state was "Raised" and not "Retaining", the fault wasn't deleted and just marked as Ack: yes.


Ignoring Acknowledged Faults
Ignoring an acknowledged fault just prevents the fault from being included in the computation of the health score of the ACI fabric, it can be useful if you want to track the ACI Fabric health and the fault you want to ignore is irrelevant:
Navigate to Fabric > Fabric Policies > Policies > Monitoring > Common Policy > Health Score Evaluation Policies > Health Score Evaluation Policy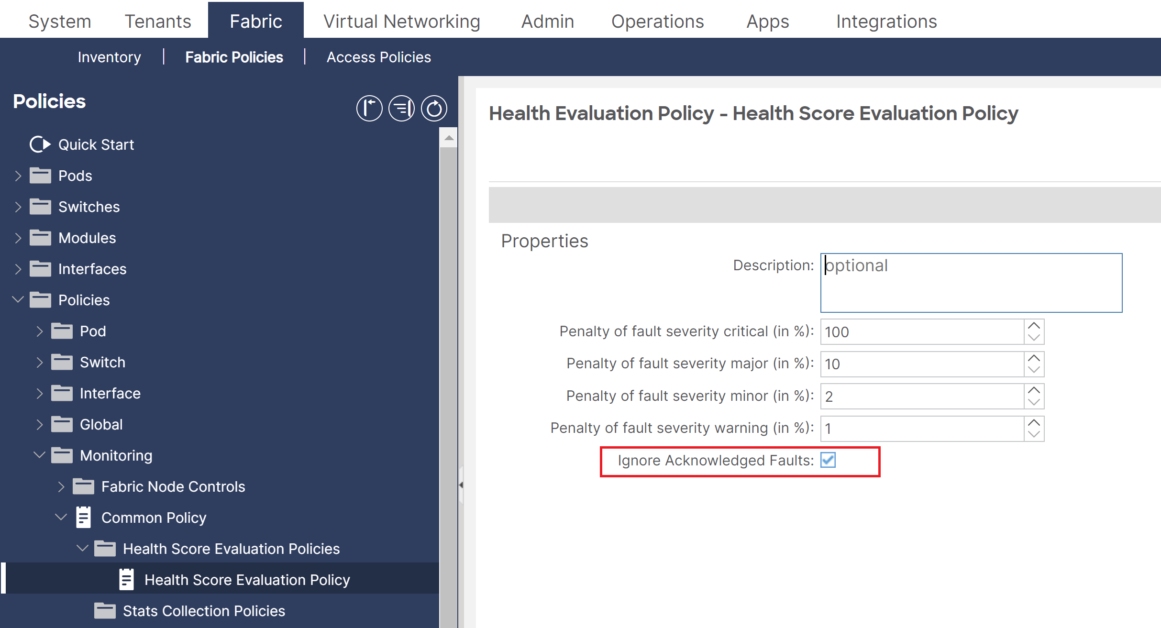 Hiding Acknowledged and Delegated Faults
When a fault condition results in the creation of both a fault and a delegated fault, both will appear in the fault count summary. To see a more accurate fault count, you can hide delegated faults.
From any APIC GUI dashboard or faults tab, you can choose to hide acknowledged or delegated faults:


Reference: https://www.cisco.com/c/en/us/td/docs/switches/datacenter/aci/apic/sw/all/faults/guide/b_APIC_Faults_Errors/b_IFC_Faults_Errors_chapter_01.html#id_64984