Microsoft SCVMM Explained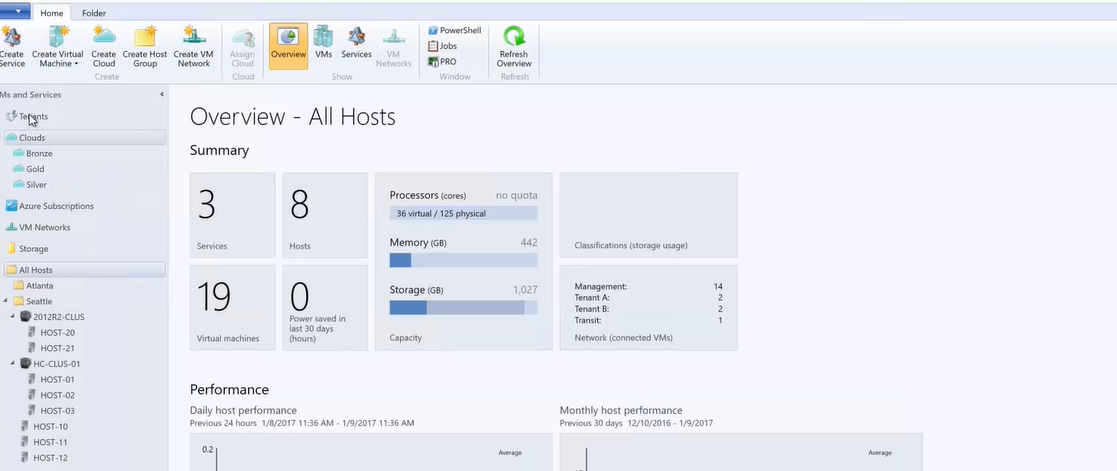 System Center Virtual Machine Manager (SCVMM) is designed for the management of large numbers of Virtual Servers based on Microsoft Virtual Server and Hyper-V and was released for enterprise customers in October 2007. A standalone version for small and medium business customers is available.
System Center Virtual Machine Manager enables increased physical server utilization by making possible simple and fast consolidation on virtual infrastructure. VMM enables rapid provisioning of new virtual machines by the administrator and end users using a self-service provisioning tool. Finally, VMM provides the central management console to manage all the building blocks of a virtualized data center.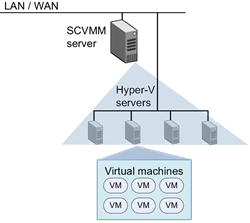 Microsoft System Center 2016 Virtual Machine Manager was released in September 2016. This product enables the deployment and management of a virtualized, software-defined datacenter with a comprehensive solution for networking, storage, computing, and security.
The latest release is System Center 2019 Virtual Machine Manager, which was released in March 2019. It added features in the areas of Azure integration, computing, networking, security, and storage.
Windows Server includes built-in tools for managing your Hyper-V virtual desktop infrastructure (VDI), including Hyper-V Manager, Hyper-V module for Windows PowerShell, Virtual Machine Connection, and Windows PowerShell Direct. These tools have specific roles and are often used in combination with each other and other tools. For example, Hyper-V Manager requires PowerShell for creating scripts and Failover Cluster Manager for managing multiple Hyper-V hosts. In short, the built-in tools are complementary but may be more complicated to use.
SCVMM is a feature-rich and more comprehensive management tool for your Hyper-V infrastructure. If you use SCVMM, you do not need another tool to manage your Hyper-V hosts. Thus, it simplifies managing your Hyper-V infrastructure greatly. However, it requires System Center licenses, the costs of which may vary depending on the number of physical cores in your Windows servers.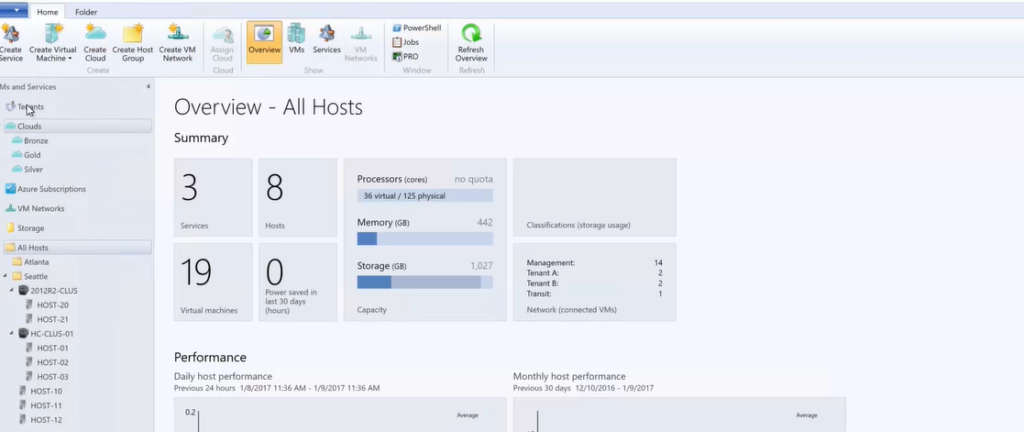 SCVMM Features and capabilities?
With SCVMM, you can:
Configure and manage virtualization servers, networking components, storage resources and other datacenter components.
Add and provision Hyper-V hosts and clusters.
Add and provision VMware ESX servers and VMs (VMware vCentre is required for managing VMware VMs).
Migrate VMware VM to Hyper-V VM.
Add networking resources such as networks with IP subnets, virtual local area networks (VLANs), static internet protocol (IP) addresses and media access control (MAC) pools.
Create and manage virtual networks and network gateways, making it ideal for very large or complicated environments that can benefit from network virtualization.
Discover, provision, allocate and assign local and remote storage, including fiber channel, Internet Small Computer Systems Interface (iSCSI) and Serial Attached Small Computer Systems Interface (SCSI) storage area networks (SANs).
Maintain file-based and non-file-based resources for creating and deploying VMs and services on hosts. Examples of file-based resources include virtual hard disks and ISO images while non-filed-based resources include templates and profiles used to create standard VMs.
Allow administrators to grant users granular control over Hyper-V resources. For example, specific users may connect to VMs and reboot them but are limited in what they can do with VM settings.
SCVMM 2019 Features?
The latest SCVMM 2019 version supports:
Upgrades of operating systems of Hyper-V clusters from Windows Server 2016 to Windows Server 2019 without stopping currently running workloads.
Windows Server 2012 Release 2 (R2) hosts.
VMware ESXi hosts.
IPv6 software-defined networks.
Software load-balancing virtual IPs, deployment of multi-tier applications using service templates, and public and internal load balancing.
End-to-end encryption of VM networks, securing the traffic between two VMs on the same network from prying eyes.
Nested virtualization, which allows Hyper-V to run inside another Hyper-V instance. This feature can now be used both for deployed VMs and while creating new ones.
Various Linux distributions, including Red Hat 8.0, Centos 8, Debian 10 and Ubuntu 20.04.
Provisioning and configuration of shielded Linux VMs, which protect against malicious administrator actions when data is at rest or untrusted software is running on Hyper-V hosts.
Configuring a Layer 3 forwarding gateway, enabling connectivity between physical and virtualized infrastructures.
Azure Stack hyperconverged infrastructure (HCI) operating system.
SCVMM 2019 version includes features such as:
Storage provisioning for Hyper-V hosts and clusters.
Dynamic optimization of compute and storage on Hyper-V and VMware host clusters. Dynamic optimization includes power optimization, which saves energy by turning on or turning off hosts on demand.
Integration of Virtual Machine Manager (VMM) with an Azure automation subscription, allowing convenient patching and updating of on-premises VMs.
Trunk mode support for VM virtual network interface cards (vNICs). Trunk mode allows traffic over multiple virtual local area networks (VLANs) and is used in virtual firewalls, software load balancers and virtual gateways, among others.
SCVMM design:
VMware vs Microsoft Cloud Technology:
| Cloud Technology | Microsoft | VMware | Notes |
| --- | --- | --- | --- |
| Hypervisor | Hyper-V | ESXi | Both Type-1 Hypervisor |
| VM Management | SCVMM | vCenter Server | |
| Self-Service | App Controller | vCloud Director | |
References:
en.wikipedia.org/wiki/System_Center_Virtual_Machine_Manager
parallels.com/blogs/ras/scvmm
cisco.com/c/en/us/td/docs/solutions/Enterprise/Data_Center/VMDC/Hyper-V/MS_Hyper_V/HyperV_1.html