HSRP MAC Address [Explained]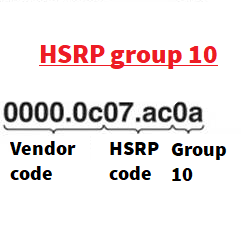 HSRP V1 MAC address:
1- The first 24 bit are reserved to the vendor (Cisco in most cases)
2- The next 16 bit represent the HSRP Code or Id (07ac)
3- The last 8 bits represent the HSRP group number in Hexadecimal (0a for group 10 in the example below)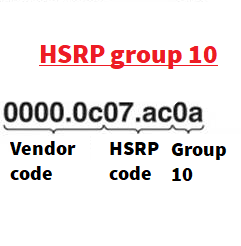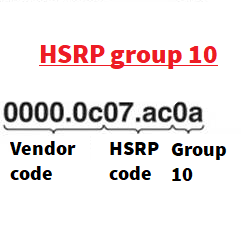 HSRP V2 MAC address:
HSRP version 2 utilizes the MAC address range from 0000.0C9F.F000 through 0000.0C9F.FFFF (000 = Group 0, FFF = Group 4095).
Notes:
The multicast address 224.0.0.2 is used to send HSRP hello messages. This address can conflict with Cisco Group Management Protocol (CGMP) leave processing.
In HSRP version 1, millisecond timer values are not advertised or learned. HSRP version 2 advertises and learns millisecond timer values.